Posted by

mli at Friday, 24th of August 2012 15:36 GMT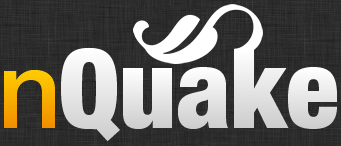 The nQuake project has released nQuakesv which makes it very easy to set up a QuakeWorld server on Linux. You just have to answer a couple of simple questions about your server and it is up and running in minutes.Read more about this great piece of software at Quakeworld.nu forum and download it at nQuake.com.More information about nQuake can be found at QuakeWorld Wiki.
[ Comments: 2 :. ]

Posted by

mli at Friday, 23rd of September 2011 15:28 GMT
The European Duel League is in its sign up phase, along with new rules and a new layout. This season will feature 2-3 divisions and prize money in each division, meaning there'll be plenty of fun and reward for players of all levels of skill! Be sure to register quickly because the sign ups are closing on 25th of, 24.00 CET (midnight before Monday). Here's the schedule for 2011/2012 season:Group phase, part 1: Oct 3 - Dec 22
Christmas break: Dec 23 - Jan 8
Group phase, part 2: Jan 9 - Apr 29
Playoffs: Apr 30 - Jun 3More info at q2scene.net and European Duel League website.
[ Comments: 0 :. ]

Posted by

mli at Monday, 11th of July 2011 11:57 GMT
QuakeServers.net has opened a new QuakeWorld FFA Server. The server is running MVDSV and KTX in matchless mode. Maxplayers is currently set to 8 and timelimit to 10. Powerups and automatic demo recording are on. The current map selection consist of relatively small maps:
dm2
ztndm3
dm3
ztndm4
e1m2
ztndm5
dm6
ztndm6
dm4
aerowalk
The server can be found at:There is also a thread about the server in QW.nu's forum.
[ Comments: 0 :. ]

Posted by

mli at Thursday, 14th of January 2010 15:57 GMT
I'm glad to able to announce that the website for US poker sites, PokerListings.com have offered their support to help QuakeServers.net provide the service in the future. With the help from the content department at PokerListings, we can keep providing you with latest information about servers.

Many thanks to PokerListings.com for their support!
[ Comments: 2 :. ]

Posted by

mli at Wednesday, 12th of August 2009 14:32 GMT
Hello Everyone! It's been a long time with no news but now there is something to report. I've added all the server that have been waiting for confirmation to the server lists. This means that there are:
8 new Quake servers
~20 new QuakeWorld servers
~50 new Quake II servers
~1500 new Quake III servers
~100 new Quake IV servers
[ Comments: 2 :. ]
Copyright © 2005-2008 QuakeServers.net.
Quake, QuakeWorld, Quake II, Quake III Arena and Quake 4 are registered trademarks of Id Software.